Art Dudley | Aug 24, 2018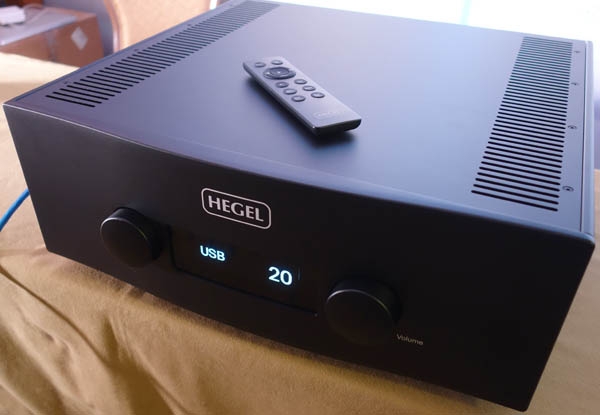 It was like going from a screening of 2001: A Space Odyssey to a lecture by Stanley Kubrick: at a press event centered around the North American premiere of Hegel's new flagship integrated amplifier, the H590 ($US11,000/$CAD13,500), the company's founder and chief designer, Bent Holter, stood before the audience and began by offering a few basic facts about the amp. Then, just a few minutes into his talk, the youthful Holter seemed inspired, and he asked for someone to bring him a whiteboard.
Anders Ertzeid, who serves as the Norwegian manufacturer's vice president of marketing and sales, did so, and for the next 25 minutes, fellow attendee Herb Reichert and I were enchanted: Blue marker in hand, Holter began by explaining the most recent refinement of Hegel's core amplifier technology, now called SoundEngine2: "The main reason Hegel amps sound different," Holter said, "is that our amps are geared to handle asymmetrical signals." He pointed to dynamic crossover distortion as the main impediment to low-distortion playback of asymmetrical waveforms, and went on to describe, in words and diagrams, how it is that traditional feedback schemes lower one kind of distortion at the expense of another, and how his patented take on feed-forward technology is more effective at cancelling-out most distortion products.
All of this took place on Thursday, August 23rd, in the Sapphire Room of the Ritz Carlton Hotel in White Plains, NY—a once-dull bedroom community and commerce district that, in recent years, has apparently done reasonably well for itself. (I lived in the pre-boom White Plains from 1986 to 1991.) It was like the world's most manageable audio show: a one-brand affair in a remarkably luxurious setting, where speeches, presentations, demonstrations, and even a live performance were punctuated with fine wines and rare meats, à la Keith Reid's "Grand Hotel."
A bit earlier in the day, Anders Ertzeid described the new flagship's essential features, including its uniquely designed D/A processor—"We don't run Linux: we've written our own proprietary operating system." The 301Wpc H590 is MQA-ready, and its USB input supports up to DSD256 and PCM 32/384. It's also Hegel's most powerful domestic amp to date: "The idea was to make a reference, a big power amp," Ertzeid said, "but we thought, who really wants just a power amp when we can make an integrated amp?"
Before dinner, which was indeed grand, and with the help of a pair of KEF Blade loudspeakers, Anders played excerpts from a few different tracks, including one by the saxophonist Jan Garbarek that sounded appealingly like a late-period Roxy Music instrumental. The system, inasmuch as I could tell from my seat at the far end of the sixth row, was fine—and was indeed free from any detectable distortions.
Speaking of music, the Hegel event actually began with a live performance, by the Norwegian singer Anette Askvik, who sang and accompanied herself on an electric keyboard (and, on one very interesting number, with a wash of celestial sounds derived from a recording made by NASA). It seemed to me her compositions and her singing style were influenced by Kate Bush and Joanna Newsom—nothing wrong with that—and her chord progressions often veered in pleasantly unexpected directions. Askvik mentioned that she has two albums out—one is called Liberty and the other one isn't (though her English is good, I didn't catch everything she said)—and she's working on a third. Good stuff, and worth looking into.