By Art Dudley | Mar 22, 2017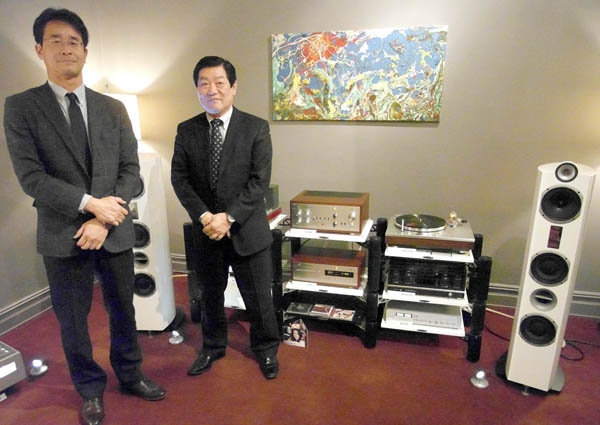 On March 16, audio manufacturer Luxman Corporation, now in their 92nd year, announced the establishment of a new US subsidiary, Luxman America: the first time in 30 years that the Japanese tube-amp specialist has had a corporate-owned presence in the US.The announcement was made at the Manhattan showroom of co-hosts Adirondack Audio & Video, a retail and distribution company based in Queensbury, New York. The event doubled as a launch party for two new Luxman products: their LX-380 tubed integrated amplifier ($7995) and D-380 tubed CD player ($5495). On hand were Luxman Vice President Tatsuya Sueyoshi, on the left in the photo above, and, next to him, Terry Kawakami, the President of Luxman.
Each channel of the LX-380 uses a pair of 6L6 beam power tetrodes—an even older design than the 300B power triode, according to Herb Reichert, who also attended the launch—for a specified output of 20Wpc. The new amp, which is housed in a beautifully finished wood enclosure, combines a number of traditional features—including a mono switch, a balance control, and tone controls with selectable frequency ranges—with a newly developed solid-state volume control called the LECUA (for Luxman Electrically Controlled Ultimate Attenuator). Also included is a full-function (MM/MC) phono stage with a built-in cartridge demagnetizer.
For its part, the D-380 CD player, which is also supplied in a wood case, can be switched between solid-state and tubed output stages (the latter powered by an ECC82/12AU7 dual triode, visible through a window on the front panel), and features proprietary output transformers and a data display that, with just a touch of the remote handset, goes from regular to large-print-edition modes (you can bet I liked the latter).
Together and in concert with a pair of Triangle Signature Delta loudspeakers, the new Luxman components sounded exceptionally musical—the presentation of the Triangle loudspeakers was crisp but not quite bright—and solo voices had both musical momentum and spatial presence in abundance. Notable also was the sheer tactile pleasure of the controls on the new products, which not only looked but also felt like luxury products from the mid-1960s.
Herb and I were in heaven, or something very like it.