Ken Micallef  |  Dec 28, 2017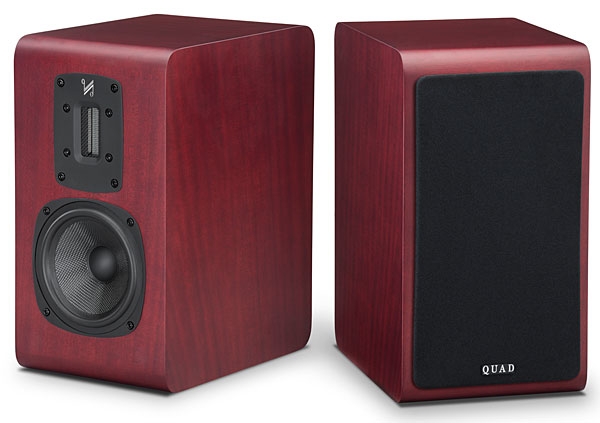 One of the better things about bookshelf loudspeakers is that they're innately portable. Though not generally considered the sort of music-reproduction machines you'd bring to a party, a 12-step group, or a Burning Man rave (though you certainly could), high-quality bookshelf speakers are overlooked tools in the eternal work-in-progress of introducing lovers, friends, and family to our beloved lifestyle. So during the first week or three of breaking in the Quad S-2 bookshelf speakers, I thought, Why keep these to myself? It's strict Stereophile policy that all gear be evaluated in the context of the reviewer's reference hi-fi rig(s), but there's no law against sharing the joy.
In their single shipping box, the S-2s together weigh about 28 lbs—it was easy for me to tote them all over New York City and environs and temporarily install them in the meager system of a Chelsea record store, in my girlfriend's entry-level rig in Forest Hills, Queens, and in my sister's none-too-shabby hi-fi (Cambridge Audio Topaz AM10 integrated amp, Pro-Ject Debut III record player) in Spring Lake, New Jersey. Everyone welcomed the sophisticated-looking, small-footprint S-2s—particularly my British brother-in-law, who fondly recalled his dad's classic Quad gear from the 1960s.
At the end of this peripatetic break-in period, I safely re-ensconced the Quad S-2s in my Greenwich Village apartment, where I listened to them in my smaller rig of Music Hall MMF 7.3 turntable and Heed amplification, and my majordomo system comprising a Kuzma Stabi and Stogi turntable and tonearm, and a Shindo Laboratory Allegro preamp and Haut-Brion power amp.
I'd reviewed high-end audio gear for various websites for 20 years before John Atkinson graciously took on this former Southern boy in 2015. That's when my real work began. But we all have history, right? And perhaps no audio history is as glorious as that of the British audio manufacturer Quad, now owned by the IAG Group, which manufactures Quad products in Shenzhen, China.
Innovator and audio designer Peter J. Walker founded S.P. Fidelity Sound Systems in 1936, and later that year changed its name to Acoustical Manufacturing Co. Ltd. After a decade of making public-address systems, their first commercial home-audio product came in 1948: the QA/12P integrated amplifier. (Quad was originally an acronym for Quality Unit Amplifier Domestic.) In 1949, the QA/12P was joined by another Walker design, the Corner Ribbon (CR) loudspeaker: the very first speaker to use the hybrid technology of a ribbon loaded by a horn.
The Quad QCII preamplifier and II power amplifier were introduced in 1953, followed four years later by the commercially successful Quad Electrostatic Loudspeaker or ESL, referred to unofficially as the ESL-57 and nicknamed "Walker's Wonder." The ESL remained in production for 28 years, and was eventually succeeded by the equally lauded ESL-63, which wowed the faithful until 1999. The ESL design is venerated for its low distortion, palpable midrange, brilliant transparency, transient speed, and lack of coloration. The trade-off is a tiny sweet spot and a lack of absolute low-end frequencies.
My Upper East Side pal and Methodist vicar Steven Yagerman enjoys his original ESLs as the holy relics they are—they bring to life the voices of Ella, Frank, Nat, John, and Paul as I'd never heard them before. I also recall how, in 2015, Robin Wyatt of Robyatt Audiobrought a pair of beautifully restored ESLs into a small showroom as attendees jostled for a taste of their itsy-bitsy yet terrific sweet spot. Peter Walker had legendary history and, thus, experience with electrostatic technology; no doubt that wisdom has trickled down, to endure in Quad's upscale Z-series speakers and less expensive S models, the latter including the smaller S-1 stand-mount, the S-4 and S-5 floorstanders, and the S-C center channel.
Design
The Quad S-2 is a two-way, ported design with a 5″ mid/bass drive-unit featuring a Kevlar cone and manufactured in-house, and Quad's newly designed, 0.5″ by 1.75″ (12 by 45mm) True Ribbon tweeter. Its specifications include a frequency response of 48Hz–22kHz, ±3dB; a sensitivity of 87dB; impedance of 8 ohms; bass extension down to 37Hz, –6dB; and a crossover frequency of 3kHz. Each Quad S-2 measures 13″ high by 7.1″ wide by 10.25″ deep and weighs 13.5 lbs.
"The ribbon tweeter in the S-2 is the same as in the S-1," said Jon Derda, of Quad's US distributor, MoFi Distribution, in an e-mail. "The Z-series tweeter is the same overall design, but has a larger surface area for an even smoother integration between the midbass and HF drivers."
The S-2's cabinet comprises varying layers of MDF, with internal "circumference" bracing. The cabinet is a beauty. Its rounded corners and rolled edges put me in mind of Eero Saarinen or Le Corbusier, architects whose structures combined subtle modernity with powerful lines drawn from nature. The Sapele Mahogany finish of my review samples was silken to the touch. (The S-2 is also available in Black Oak, Piano White, or Piano Black.) The S-2s come with a thin sheet of rubberized paper, from which can be peeled eight plastic nubs to be used as footers. Near the bottom of the rear panel are two pairs of handsome, matte-finish aluminum binding posts; near the top, a 11/4″-diameter port. Even the placements of these mechanical bits and bobs seem well thought out, for purposes functional and cosmetic.
In an effort to learn more about the S-2's design and construction, I contacted Peter Comeau, director of acoustic design for the Hi-Fi division of IAG Group; he replied by e-mail:
"The biggest problem with dome tweeters is that the diaphragm is rarely fully under the control of the motor system as the voice-coil is only attached at the circumference of the dome. What we often see is the center of the diaphragm moving in anti-phase to the voice-coil and, obviously, this results in a critical loss of transient information and therefore musical detail. With a ribbon tweeter the diaphragm IS the voice-coil, so to speak, and so is always under the control of the music signal from the amplifier. In that respect it is closer to the performance of an ESL and, thankfully for Quad, shares some of the same characteristics.
"The True Ribbon treble uses a thin, metal ribbon suspended in a strong magnetic field. The music signal is passed directly to the ribbon and causes a deflection due to the induced magnetism. As the ribbon is directly driven by the amplifier, its resolution of musical detail is very high. The S series ribbon is made from a lightweight metallic alloy which is stronger than pure aluminum. In addition the ribbon is given extra mechanical strength by a very light, and thin, deposition of polycarbonate—giving it a sandwich construction that allows higher power handling."
Setup
The S-2s quickly found favor in my smaller rig, which occupies Listening Room A: 14′ long by 8′ wide by 14′ high. I set up the Quads along one long wall on 24″-high steel stands, which put their tweeters at the height of my ears when I sit down to listen. Each speaker was 9″ from the front wall (measured from the toed-in speaker's rear inside corner). A support wall in my apartment creates a barrier on the left that was 5″ from one S-2's rear outside corner; the space to the right of the right speaker is relatively open. The speakers were 5′ from my listening seat—I listened to them in the nearfield. This setup provided the most coherent, cohesive sound from LPs and CDs.
"Regarding setup," wrote Derda, "the ribbon tweeter has limited vertical dispersion, which reduces the effects of floor and ceiling reflections. It usually performs best aligning the tweeter at ear level of the listening position, or within a few degrees of ear level." I found this observation to be 100% spot on.
But in Listening Room B (12′ L by 10′ W by 12′ H), placing the Quads 9″ from the long front wall basically sapped their articulation. Repositioning them 27″ out from the wall and 58″ apart snapped their coherence into place.
Listening
In my smaller system in Room A, I listened to oud master Anouar Brahem's exotic Blue Maqams (CD, ECM 2580). The S-2's open, airy sound and smooth delineation of upper-frequency transients weren't the first things that impressed me. Instead, it was the speaker's fantastic reproduction of the lower midrange and bass—the lute-like oud, which looks like a pear sliced lengthwise in half, or a plump guitar with a split-back headstock, can go very low in pitch. Spinning the Christian McBride Big Band's Bringin' It (LP, Mack Avenue MAC1115) brought to the fore equally extraordinary lower-frequency tonnage allied with clarity. Both recordings presented nonfussy senses of immediacy and intimacy, as if the wall between me and the musicians—or, at least, between me and the mixing console—had been removed.
Recorded at the now-closed Avatar Studios, Bringin' It evokes the classic big bands of Count Basie and Thad Jones–Mel Lewis, with nods to Oliver Nelson and Nelson Riddle. But Bringin' It is pure Christian McBride—rock-'em sock-'em big-band dynamics and polished swing performed with the kind of enthusiasm and soul that are atypical among today's math-jazz merchants and their methodical, grant-enabled compositions. The Quad S-2s made the most of Bringin' It, from McBride's sinewy double-bass notes and drummer Quincy Phillips's steaming pulse to the assembled brass and reed instruments' shouted choruses and heated vamps. This album sounded very big, very dynamic, and very extended through the Quads. Fun!
The ribbon tweeter's aptitude for exceptional horizontal dispersion was gracefully evident with the McBride LP and every recording I put through the Quads, providing "black" backgrounds, zero noise floor, and distortion-free treble notes. No conventional dome tweeter I've heard has delivered these levels of purity, clarity, and extension allied to force. The S-2 sometimes sounded literally incandescent, its music signal driven more than released, its sound more focused and injected into the room than a static delivery of recorded notes. This quality appeared again and again, from my go-to Blue Note LPs and new Newvelle Records LPs (see below), to old Steely Dan and Tom Petty LPs and CDs of various genres. The S-2s consistently drew me in and glued me to my listening seat. Each recording was a revelation, a chance to get lost in the music.
The S-2s didn't focus my attention on their electromechanical properties, but on the music. Not often did I think, Those ribbons are super revealing! Instead, they enabled full saturation and immersion of mind, brain, and body in the wonder of music (footnote 1). As I type this in my office, aka my kitchen, I hear cymbal rolls and piano swirls from the stereo in the living room. The instruments, even their echoes down the hall, sound beautiful. Not live beautiful—I don't care about the debate between live vs studio sound. I care about beauty, and the S-2s delivered that, every time.
Back to Blue Maqams: Performed by Anouar Brahem, multi-instrumentalist Django Bates, double bassist Dave Holland, and drummer Jack DeJohnette, the music on this recording was revealed as alive and glowing, all sinew and guts and beauty and light. The music was forceful, potent, sweet, dizzying. The Quad S-2s re-created the opulent harmonic complexities created by these master musicians in thrall to their instruments. They made me marvel at the sound of each instrument, and its cohesion and coherence on the soundstage. Holland's bass was juicy, rich, practically tumescent. The Quads resolved the microtonalities and air-moving force of DeJohnette's drums and cymbals, as well as the spaces between his notes, where the energy and mystery of his genius lives.
Two Chet Atkins albums originally released by RCA Victor in 1957 and 1961 capitalized on the then-new fascination with stereo, and have recently been reissued by Sundazed/Modern Harmonic: Hi-Fi in Focus (MH-8061) and Chet Atkins' Workshop (MH-8064). Pressed at RTI, the reissue LPs reveal Atkins's brilliant guitar work and the albums' conceptually dated sonic presentations, which nonetheless still hold a certain allure for fans of space-age bachelor-pad music such as I. The albums stand on their own merits due to the honeyed tone of Atkins's guitar and technically meticulous playing. Jazz guitarists Jim Hall, Johnny Smith, and Barney Kessel may have been more astute and revered, but none trumped Atkins in terms of pure touch and tone. He typically recorded basic tracks at RCA, then refined the music in his home studio, which was no doubt a marvel of its day. The sound on both discs is rich, clean, clear as a bell, and quite dynamic.
Take 2
I listened to the Atkins discs with the Quad S-2s in my larger rig, and again, it wasn't the ribbon tweeters' upper frequencies that first grabbed my attention, but the deeply extended, richly tonal electric-bass notes, delivered with fine texture and copious weight. The S-2s' bass reproduction was in a league of its own for a stand-mounted speaker, even with the low-watt Haut-Brion amplifier. Atkins's solo in "Yesterdays," from Hi-Fi in Focus (1957), was all silvery highs and gleaming lower-register softness—near perfection for fans of holy electric-guitar magic. Sweet, pure, full of tactile flavor and tone, Atkins's guitar playing was certainly "God"-like, nine years before Eric Clapton earned that moniker in 1966 with the release of John Mayall's Bluesbreakers with Eric Clapton (LP, Decca LK 4804).
The Quads also revealed the Denon DL-103 cartridge's typically forward if natural-sounding soul—as well as, to an unfriendly degree, the arid sound of acoustic guitarist Ross Hammond on his Follow Your Heart (LP, Prescott 5638871488). Beck's Morning Phase (LP, Capitol B001983901) was as well defined as I've heard it, the S-2s re-creating the massive, Phil Spector–like sound of the voices, rock band, and orchestra with spooky splendor. Though the recording is a smidgen processed-sounding, the S-2s cast an immense soundstage, the largest and most-fleshed-out I've heard from any pair of small speakers in my penthouse system. But there was also a sense of stress to the treble and midrange, the low-power Haut-Brion begging to be taken off-line.
When I returned to the Music Hall and Heed components in my smaller system, the S-2s wowed me further. My buzz continued unabated for hours.
Elan Mehler is on a serious roll. His Newvelle Records label releases jazz records at a fast clip, but the quality never suffers. Two of my favorites are Hope, by the Kevin Hays and Lionel Loueke Duo (LP, Newvelle NV008LP), and Midnight Sun, the first release by the Chris Tordini Trio (LP, Newvelle NV010LP). On the latter, double bassist Tordini is accompanied by guitarist Greg Ruggiero and singer Becca Stevens, and the trio's emotional performance of "My Funny Valentine" is one for the ages. The Quad S-2s killed me with this disc, leaving me with emotions spent and senses satisfied. They reproduced Stevens's soul-baring, wondrous singing with a sense of magical realism rare for any pair of speakers to achieve. The S-2s followed suit with the trio's reading of "Everything Happens to Me"—their hot swing and mischievous gait are wonderful stuff. This charming album gets my late vote for one of 2017's best.
Then I went mad—I pulled out electronica old and new, jazz older and newer, more Chet Atkins, and more mourning Beck in Morning Phase. It's times like these, me brothers, when reviewing audio is like playing tiddlywinks with the Gods on Mount Olympus. I hit that golden groove in which every LP and CD sounded not good, but great. In my experience, this happens more often with lower-priced gear than with platinum systems.
Through the Quad S-2s, the electronic robo-jazz of "Turkey Dog Coma," from Flying Lotus's You're Dead! (LP, Warp WARPLP256), revealed its sample-studded, digital-driven heart as never before. Finally, I got it—this flashy music's myriad layers were truthfully presented on a flat soundstage with an oddly artificial sheen. The S-2s were consistently transparent to the source, regardless of pedigree. They cut loose with Jimmy Smith's The Sermon! (LP, Blue Note BLP 4011), easily revealing his Hammond B3 organ's weird mechanical sounds and the pristine cymbal work of drummer Donald Bailey. Now Chet Atkins's guitar sounded delicate, grain-free, and pure as country moonshine. Next, I dropped on the Music Hall the eponymous compilation Kraftwerk (2 LPs, Vertigo 6641 077), played "Ruckzuck," and was again struck by the Quads' sonic purity. Kraftwerk's ubiquitous squirming synths sounded crisp and shiny, never etched. Clean, rich, dynamic—this is electronic music for plowing the lower 40 on your hybrid tractor.
Conclusions
To hit their stride, I would guess the Quad S-2s require power in the 45–65Wpc range. Careful positioning is necessary for a coherent sweet spot. And if there's junk anywhere upstream in your hi-fi, the S-2 will mercilessly reveal it, warts and all. These are all good things. Even better, the S-2 is fabulously dynamic, well extended, pure and clean in its revealing upper-frequency range, and offers the best low-end bass traction of any stand-mounted speaker I've heard in my MacDougal Street digs. The Quad S-2s provided me with many hours of happy listening, and left me wringing-wet with emotion and, yes, humble gratitude. Absolutely recommended.
Footnote 1: I once asked guitarist and composer Pat Metheny, "What most challenges you day to day as a musician?" He replied (I paraphrase), "What is music? Really, what is it? That's what I'm still trying to discover."