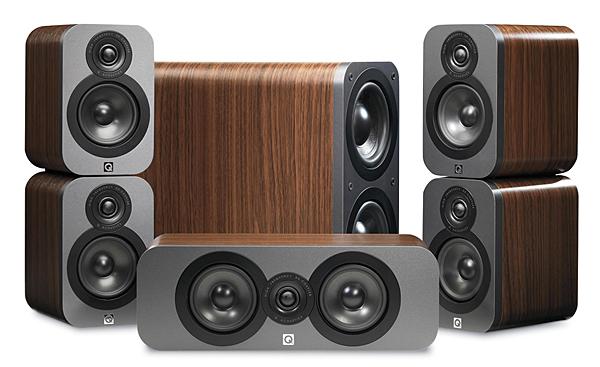 Tube amps. Mono pressings. And now, 5.1? Has bedrock surround sound indeed joined the ranks of retro audio technologies? Surround receivers beyond the most entry level nearly always have more than five channels (though their uses vary), while Dolby Atmos and DTS:X have made seven (5.1.2) the new minimum system configuration. What happens when you go in the other direction? The flood of 5.1 speaker sets that I used to review in the late 20th and early 21st centuries has tapered to a trickle. I see fewer new ones at CES and CEDIA, and plain old stereo is dominant at the rest of the domestic and international audio shows. However, the British manufacturer Q Acoustics has been marketing 5.1-channel speaker sets since the company's inception about a decade ago and continues to actively develop them. The brand's latest entry is called the 3000 5.1 Home Theatre System.
Cognoscenti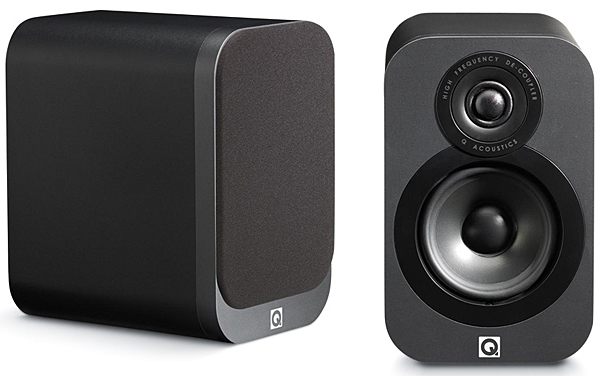 The founders of Q Acoustics previously worked for some fabled British loudspeaker makers, such as KEF, Mission, and Tannoy. The 3000 is one of four Q Acoustics 5.1-channel systems and one of two to be sold in the United States (through Q's American website or Amazon, among others, with free shipping). The other three systems are the satellite-based 7000i Plus 5.1, also sold in the U.S.; the towerbased Concept Cinema; and the 2000i Cinema, which uses compact speakers with 5-inch woofers, as opposed to the 4-inchers in the 3000. The company also sells soundbars, as well as in-wall, in-ceiling, and outdoor speakers.
The 3000 system consists of four 3010 compact satellites, a 3090C center, and a 3070S subwoofer. (The individual models are priced at $200/pair, $180, and $400, respectively, which would total $980—but when you buy them together as the 3000 package, you get an $80 discount.) In pictures, these speakers look plain to the point of anonymity. Up close and personal, though, the matte graphite gray vinyl enclosures that housed my samples have a pleasing fit and finish, and the rigorous lack of ornamentation—aside from a slightly paler gray band around the baffle—makes them easy to live with. Optional accessories include the 3000ST stand ($140/pair) and 3000WB wall bracket ($28/each). The speakers do not have keyhole mounts, though there is a threaded insert on the bottom. The sub's supplied spikes may be made safe for hardwood floors with the included rubber covers.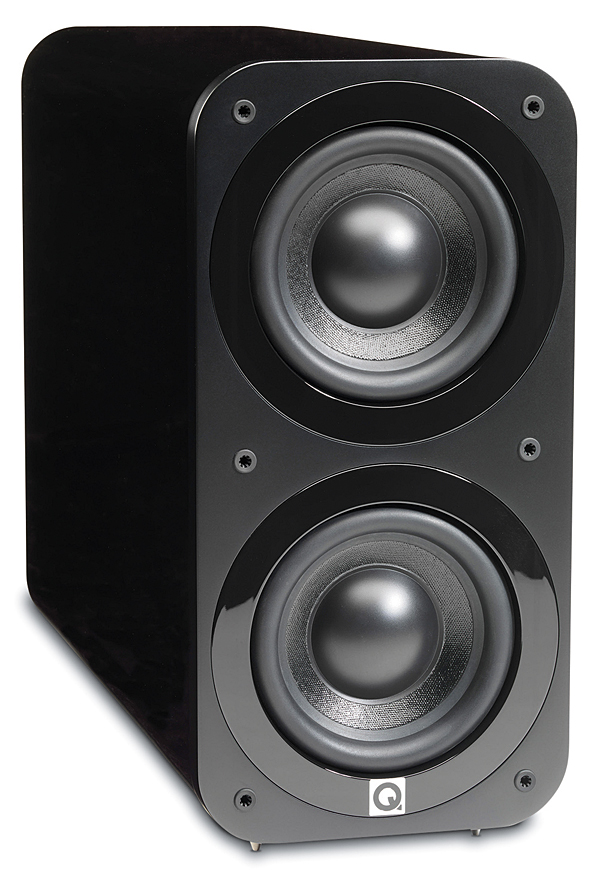 The 3010 satellite is a twoway design with a 1-inch coated polyester-weave soft dome tweeter (with radiating surround) and a 4-inch paper-aramid (similar to Kevlar) cone woofer, behind a magnetically attached cloth grille. The 3090C center flanks the tweeter with two of the woofers. Both models have plastic-nut binding posts that are staggered at a right angle; inflexible speaker cables with short leads would not be ideal mates. Both have a nominal impedance of 6 ohms. Rated sensitivity is 86 decibels for the satellite, about average for an affordable compact sat, and 89 dB for the center. A decent budget receiver should run them fine, but a beefier one would run them even better. (To some degree, you could say that about most speakers.)
The subwoofer in an under-$1,000 speaker package is typically the weakest family member. It is here that Q breaks from the pack with what looks like a giant monitor offering two 6.5-inch drivers in a 21-inch-deep rear-ported enclosure. Small drivers, big enclosure. With that cabinet depth, this isn't a wall hugger, though it might sit alongside a credenza just fine. Amplification is rated at a respectable 140 watts RMS. The company chose not to inflate the number with a peak power rating, even an alternative one.
Associated equipment included a Denon AVR-X7200W A/V receiver, Oppo BDP-83SE universal disc player, Micro Seiki BL-51 turntable, Shure M97xE cartridge, Denon PRA-S10 serving as phono preamp, Lenovo Windows 10 laptop, and Moon by Simaudio Neo 230HAD DAC. All movie demos were on Blu-ray.
Dum Dada Dum
I try not to make snap judgments, but when this system uttered its first sound—the familiar fanfare of horns and snare drums that accompanies the 20th Century Fox logo on a movie disc—I immediately thought, "I like this!" Followed by, "That must be a soft dome tweeter," though this was break-in listening, and I hadn't pored over the specs yet. An openness at the top of the presence region let me know the tweeter wasn't sounding unduly soft.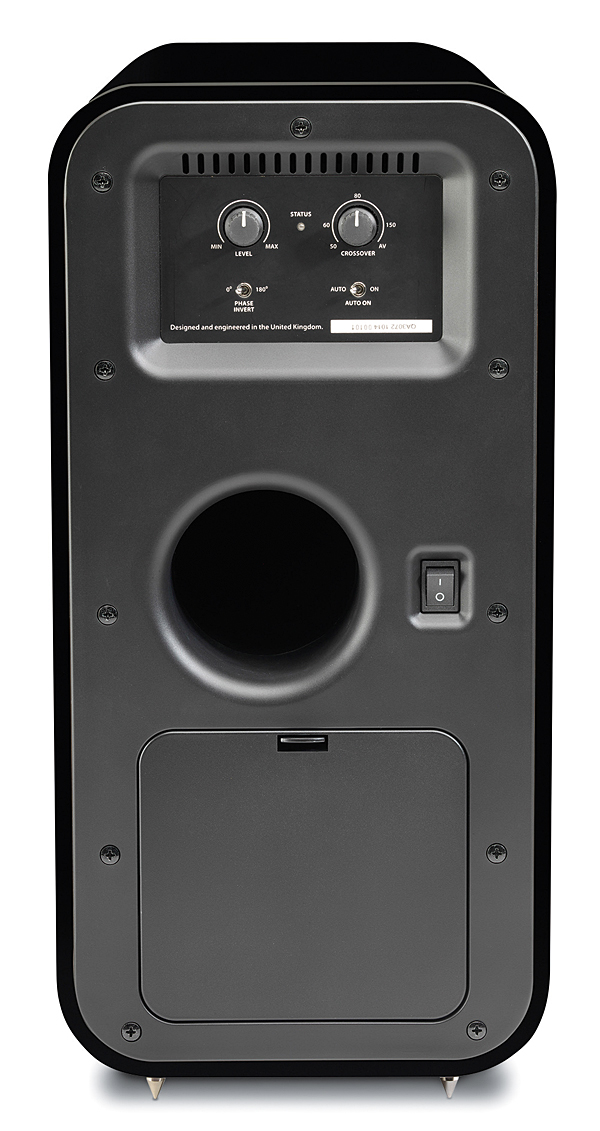 Although the satellite and center are rated down to 68 and 75 hertz, respectively, –3 dB, I thought the bass was understated until I switched away from my default subwoofer crossover of 80 Hz and instead selected 100 Hz. It was a more appropriate choice for the satellites' 4-inch woofers. Even 120 Hz might not have been excessive, given the sub's admirable articulation and damping. Sub volume, in both the surround receiver and the sub itself, needed to be set slightly higher than my customary defaults—indicating lower than average input gain. With tweaks, drums acquired the correct weight, and bass lines evened out (within the limits of my room's standing wave, with no room correction). This system isn't a bottom-octave floor shaker, but it produces dramatically and/or musically appropriate bass.
It's never a bad thing when a system physically startles me, and that's what happened with the explosions kicking off The Magnificent Seven (2016, DTS-HD Master Audio). They resounded from front to back, momentarily convincing some primordial part of me that I was in danger, which added to the classic menace of a tale set in a violent time. The sub also excelled at the roll of timpani that ends the first scene and the thunder of hooves that kicks off a later one—always contributing to the overall effect without calling attention to itself. It never unduly localized male voices. The satellites anchoring the four corners of the soundfield drew a colorful picture of the triumphal orchestral score and didn't lose track of less splashy low-level sounds, such as wind or crickets. I had no trouble sitting back and letting the movie wash over me. This was home theater the way it was meant to be.
The soundtrack of Sully (Dolby TrueHD) isn't noted for its subtlety, yet it offers fairly involving surround sound with a rich variety of lowfrequency effects. These range from disconcerting bonking sounds in the cabin to the on-land crash in a fantasy sequence and the plane's actual water landing (as Sully carefully describes it) in the Hudson River. With good power handling, strong timbre matching between satellites and center, and the sub's self-discipline, it all came together for a gripping experience, even though I knew the ending.
The theme music of Sherlock (DTS-HD Master Audio), season 4, has always sounded aggressively bright to me, and the Q system didn't change that impression, though that didn't prevent me from enjoying it. Mixed more for television than movies, the program doesn't have much dynamic range, but it does boast a busy soundfield with copious whooshing effects that depict Holmes's racing thoughts as well as his inner turmoil. Vivid and colorful, the Q system's presentation didn't allow me much distancing from Benedict Cumberbatch's intense, angst-ridden performance.
Smooth and Sweet and Fab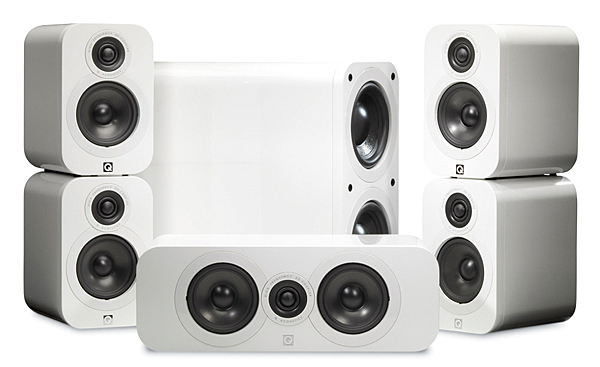 Q's smooth, sweet, spacious midrange was a good setting for the familiar voices of Love, the mash-up of Beatles songs created for Cirque du Soleil (DVD-Audio, MLP 5.1). It favored blending over differentiation in the isolated vocals of "Because." The mix and the speakers worked together to tame some elements that were a tad acerbic on vinyl, such as the slashing string ensemble of "Eleanor Rigby" and the cymbal smashes of "Tomorrow Never Knows." The dovetailing of the satellites' 4-inch woofers and the sub's 6.5-inch drivers served Ringo Starr well. These speakers were meant for each other.
This seemed like the right moment to demo a drummer-led band. Billy Cobham's debut solo album, Spectrum (LP), veers between Mahavishnu Orchestra–like intensity (with Jan Hammer's keys providing the manic repetitive flourishes) and the suave horn charts of Cobham's subsequent albums. The satellites delighted in both the buzzy, distorted keyboard textures and the sassy timbre of the horns, saxes, and flute. Cobham is a busy and vigorous drummer, and with the sub dialed in, his rolling, stuttering line of percussive thought had just the right combination of punch and decay. With the beats coming hard and fast, the sub's lack of overhang was refreshing.
Results with orchestral music were mostly positive, with nitpicky reservations about the top end. The multichannel SACD of Ralph Vaughan Williams' Job and Symphony No. 9, with Sir Andrew Davis leading the Bergen Philharmonic Orchestra, seemed a trifle bright in the brass and strings, but only at the highest swells. I followed it with the stereo SACD of Beethoven's Symphony No. 3, with Herbert Von Karajan leading the Berlin Philharmonic in the 1963 reference standard, and heard brightness only in passages so brief, I couldn't regard it as a problem. The same happened with the Fritz Reiner and Chicago Symphony Orchestra recording of Bartók's Concerto for Orchestra, on the Classic Records reissue of the RCA Living Stereo LP, with a slight stridency only when appropriate—in a brief passage of the first movement when the strings and woodwinds get a little angry. You might want to avoid signal sources that lean to the bright side (mine don't) and keep the volume to less than bombastic levels.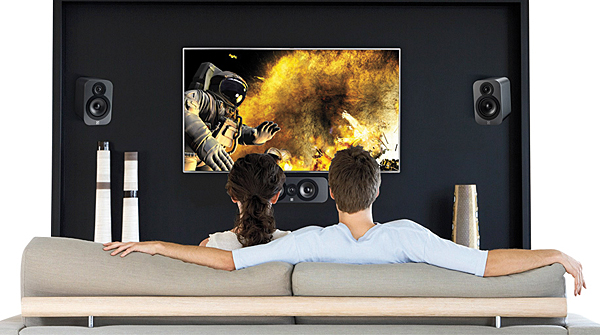 I'd be disserving the Q system if I didn't mention how brilliantly it served every section of the orchestra—especially the Bartók concerto's passages for bassoons, which were underpinned by tight, tuneful bass pizzicato. Nor have I mentioned how the 3000 kept me company several evenings in succession with all 10 hours of the Bach Guild's Big French Music Box (one of those 99-cent Amazon grab bags). The system maintains a high comfort level 97 percent of the time. The other three percent is the price you pay for treble that is not dumbed down or anesthetized. That treble may lack the nth degree of refinement you get in some pricier speakers, especially on loud massed brass and cymbals. But at this price, the system is light-years ahead of average in that regard.
I recommend these speakers to budget buyers with unbridled enthusiasm. They equal or outperform most under-$1,000 sat/sub sets I've heard, including a few on our Top Picks list that I'm familiar with. Moreover, this is one of the rare sat/sub sets where the subwoofer is worthy of the satellites. In fact, if you're in the market for a subwoofer alone, the 3070S is an excellent budget buy at just $400. Q Acoustics really gets it right.